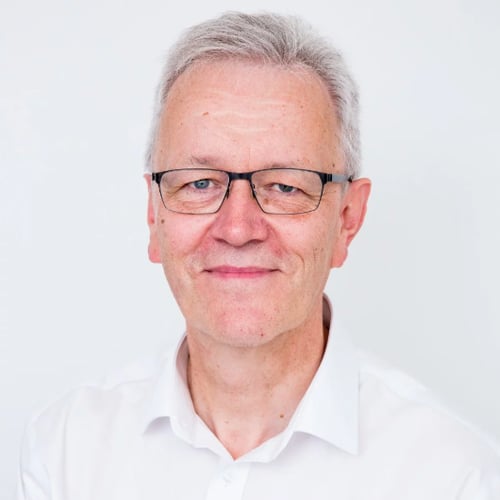 Council, Audit and Risk Assurance Committee
Registrant Council Member
David is a registered clinical scientist and Fellow of the Royal College of Pathologists. He is currently the Director of Healthcare Science for NHS National Services Scotland and a Consultant Clinical Scientist for NHS Lothian. Prior to this he was the Scottish national professional lead for Healthcare Science.
He has over 28 years' experience as a clinical scientist and led the introduction of Haematology Molecular testing in NHS Lothian, leading to a National service for genetics of bleeding disorders, and the introduction of molecular pathology testing. Prior to specialising in Haematology, David was involved in research at the University of Texas, and the Imperial Cancer Research Fund.
David was previously a member of the Academy for Healthcare Science Regulation Council and a Director of the Association of Clinical Scientists.
Register of Interests
In addition to providing the following declaration of private interests, the Council member has undertaken to abide by the Code of Conduct for Council members (pdf).
Membership of, or position of general control or management of, (current memberships or those held in the last two years) any body:
a) to which a Council member is appointed by the HCPC:
None
b) exercising functions of a public nature:
None.
c) directed to charitable purposes:
Member – British Society for Haematology.
Member – British Society for Haemostasis and Thrombosis.
d) whose principal purposes includes the influence of public opinion or policy (including any political party or trade union):
None.
Remunerated employment:
Director of Healthcare Science – NHS National Services Scotland.
Consultant Clinical Scientist – NHS Lothian.
Directorships in public and private companies including non executive directorships:
None.
Shareholdings which give the Council member a majority or controlling interest in any undertaking:
None.
Contracts for goods, services or works made between the HCPC and the Council member or a firm in which the member is a partner, or a company of which the member is remunerated as a director:
Previous role has HCPC Partner.
Gifts, hospitality and inducements received:
None.