Doreen Caesar is a physiotherapist working in an intermediate care team
Doreen speaks about her experiences of moving to the UK to practice, the challenges of finding employment, and the steps one Recruiting Manager took that made a real difference.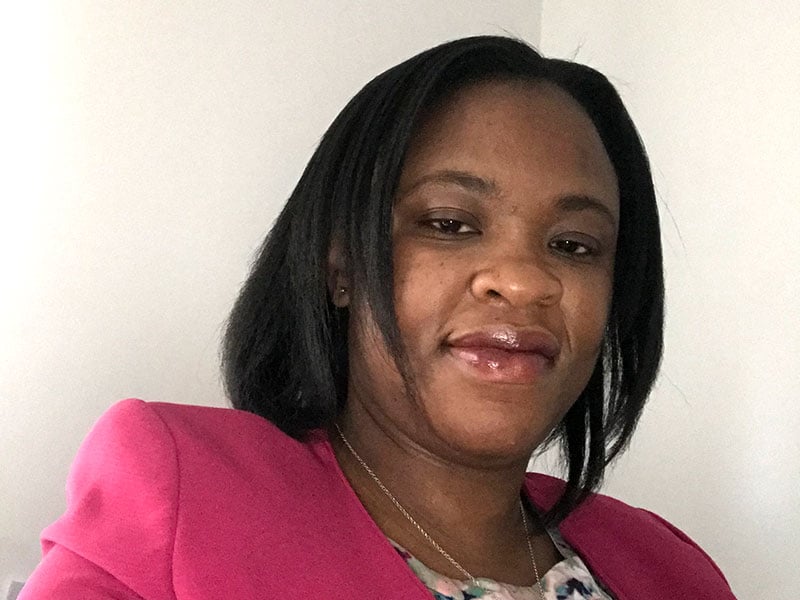 Doreen's story
I am a mother of four beautiful children and a physiotherapist by profession. I took a course in Ghana that has a common year across several health professions as my parents wanted me to be a doctor.
I am glad that I made the decision to continue the course to qualify as a physiotherapist in July 2007 and following completion of my internship joined my husband in the UK in 2009.
I gained my HCPC registration, but I struggled to find a job as it became clear that I lacked UK experience. I worked as a support worker in the NHS for learning disability clients. I enjoyed this role, but felt I wanted to get back to my passion, physiotherapy.
I credit the success of finding my first physiotherapist job to a Trust Recruiting Manager.
I saw a role as a Physiotherapy Assistant at my local hospital and applied for it. That Recruiting manager noticed from my application that I had HCPC registration and called me on the unit to find about why I had applied for the role.
To this day I remember picking up that phone, someone asking for me and talking about why I wanted that role. She suggested that I withdraw that application and wait a few weeks for a Registered Physiotherapist role to be advertised.
In the meantime, she organised for me to visit the physiotherapy department and to speak to their manager about what they would be looking for during any interview.
I got the job!
So, what made a difference to me was the professional curiosity of the Recruiting Manager, not discounting me and my application as I lacked UK experience in health care.
She took the time to contact me and to see if it was something that she could facilitate. She looked at my individual needs and did not see them as unsurmountable and indeed saw that registrants from overseas bring a richness to the workforce and reflect the society that we live in. We can all learn so much from each other.
I now work in an intermediate care team specialising in reablement, focusing on facilitating discharges and preventing admissions to hospitals.
That Recruiting Manager went the 'extra mile and made everything happen', seeing me as an individual. I have enjoyed working at the trust and felt loyal to them for the past 12 years.
I am now a co-convenor at the Chartered Society of Physiotherapists for BAME registrants and use this position to support other registrants through their journey's to the UK.
I now try to mirror this ethos in my own work and feel privileged to work with my patients doing a job I love.
If you wish to contact Doreen, you can reach her at:
Doreen.caesar@nhft.nhs.uk
bame@csp.org.uk
@kyprmph (twitter)
Related content
More information for employers or managers of health and care professionals is available on our Employer hub
Get updates relevant for employers of HCPC registrants delivered straight to your inbox
Subscribe to receive HCPC insights for employers by entering your email address below.
Cyhoeddwyd:

13/07/2021

Resources

Learning material

Is-gategori:

Case study, Information and support

Audience

Employers
Tudalen wedi'i diweddaru ymlaen: 14/07/2021