The information in this article is taken from two webinars on the subject, which were held in 2022. You can watch recordings of these webinars below.


Background
Every individual on our Register is required to meet the standards of proficiency as far as they relate to their scope of practice. A registrant is considered fit to practise when they have the skills, knowledge, character and health to practise their profession safely. The standards we set, including the standards of proficiency, allow us to assess whether they can do this.
On 1 September 2023, updated versions of the standards of proficiency come into effect.
More information on the updated standards

Download the updated standards

What employers need to know about the updated standards of proficiency
Why employers need to know about fitness to practise and the updated standards of proficiency
Your role as an employer is to support the HCPC registrants you employ or manage so that they are able to meet the standards.
If a referral is made about a registrant, our fitness to practice (FTP) procedure begins. This is the process by which our team assesses whether a registrant meets our standards. The stages of this process are summarised here: The FTP investigations process
From 1 September 2023, the assessment of a registrant's practice will be against our updated standards of proficiency. Some of these are changes in emphasis, some feature wording amendments and some are new standards. All have been made to reflect developments in practice, to represent the reality of working in the current healthcare environment, and to better equip registrants to grapple with the challenges they face every day.
As an employer, your responsibility is to provide a working environment in which these standards can be met.
There are a number of key themes into which these updates fall - you can explore these via the bullet points below, or download the revised standards in full.
Registrants' mental health and 'maintaining fitness to practice'
Our standards have always included an expectation for registrants to manage their own health in order to remain fit to practise. In the updated standards, however, the emphasis has changed.
The previous standards were less about the registrant and their health and more focused on fitness to practise. This wording reflects our position as a compassionate regulator and our understanding of the centrality of registrant wellness.


Registrants must:
2: understand the importance of their own mental and physical health and wellbeing strategies in maintaining fitness to practise
4: develop and adopt clear strategies for physical and mental self-care and self-awareness, to maintain a high standard of professional effectiveness and a safe working environment
Expectations of registrants:
Our previous standards did not mention mental health expressly and so our updated standards better support registrants in looking after their mental health as well as their physical health when practising.
There is not a set way for registrants to meet this standard, but registrants may find it helpful to include wellness goals in their personal assessments or include specific observations about their health and how they manage it in their own notes
This new emphasis aims to ensure that registrants are empowered to assess their own level of health and to seek support when it's needed - in fact, that they are obliged to do so. Registrants should take proactive steps to manage their health and adapt their practice and should stop practising if they are not able to do so safely and effectively.
The updated wording of this standard also clarifies our stance on mental health. It is not the case that experiencing one episode of ill health or one episode of poor mental health means that a registrant is not fit to practice. Nor is it the case that seeking assistance from an employer means that a registrant will be referred to FTP.
As an employer, your responsibility is to provide a working environment in which these standards can be met. If you don't feel you have adequate time, support or facilities to help registrants manage the emotional burden of their workload, this requirement should help you call for the changes that are needed in the workplace.
When should a referral be made?
A referral can be made by an employer or colleague. A self-referral can made by the registrant. We expect to receive referrals only where the registrant's health condition impacts on their ability to practice safely and effectively.
As an organisation, the HCPC has historically received more self-referrals for health conditions - especially mental health conditions - from some professions than others. This can be because of employer pressures - but also because of insurance pressures, or a number of other external pressures.
This flowchart shows a simplified process of assessing whether a registrant's health condition means that they need to make a declaration to the HCPC.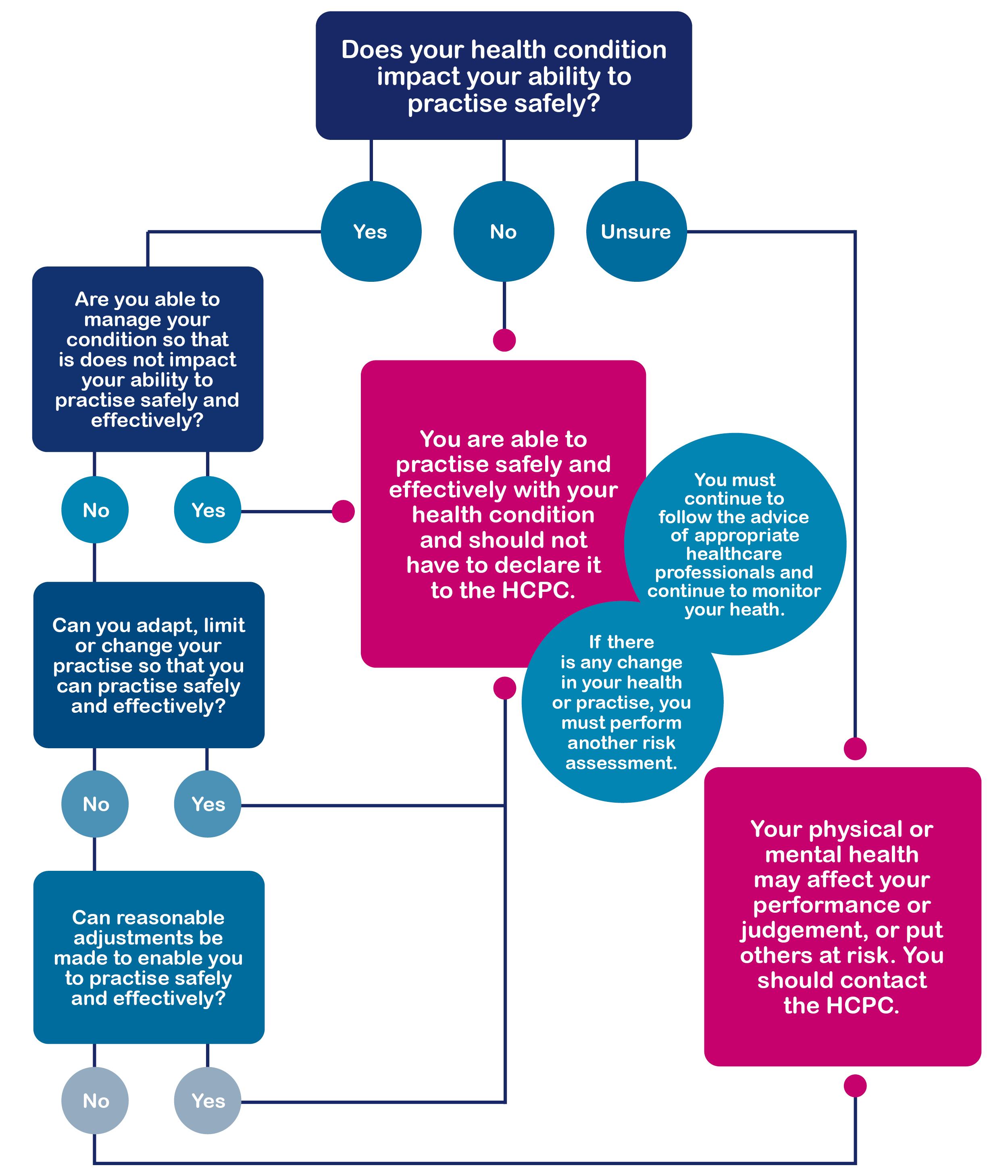 To support your employee with these considerations, You can have a discussion with the registrant using the questions on the left hand side of the flow chart: These will guide you both in making a judgement about whether they are able to practice safely and effectively – the words in the middle of the chart. We recommend bearing in mind that each individual's assessment will be different based on their role, as well as the specifics of their condition.
You can consider:
Is the registrant able to manage their condition so that it does not impact their ability to practise safely and effectively? Could it be managed through medication or treatment, for example?
Can the registrant adapt, limit or change their practise, so that it can be done safely and effectively?
Can you make reasonable adjustments in the workplace that will enable the registrant to do practise safely and effectively?
If the answer to any of the questions is yes, then a referral, self-referral or health declaration would not need to be made. So, even if your employee has a long-term illness, if this is managed in a way that allows them to meet the standards, then it would only be a problem if there is some change in their health that prevents them from doing this. Having an episode of depression, for example, is not something that automatically necessitates a referral.
It may be that your employee's condition is not something that cannot be managed in a way that allows for safe and effective practice, or that adapting their scope of practice may not be possible, or that making reasonable adjustments may not be feasible. In these cases, we recommend that you (or they) seek advice from the HCPC about making a declaration or referral.
If you are really not sure whether or not the registrant's fitness to practise has been impaired, then we also recommend that you (or they) seek advice from the HCPC about making a declaration or referral.
How to make a health declaration or self-referral
Preparing for the updated standards coming into effect
As an employer, it's your responsibility to support any HCPC-registered staff member in your care to understand and meet the updated standards from 1 September 2023 onwards. The only way that these staff members will be able to maintain their fitness to practice despite the pressures of their workload and the emotional burden it entails is with their employer's support. This means that, in addition to your employees being familiar with the standards, you will need to be as well.
HCPC resources: All the information on what's changes and what our expectations are is available on the HCPC website (www.hcpc-uk.org/updated-sop). There is also guidance, support, and some free webinars that you may wish to attend.
Professional bodies: These can be a wonderful source of information and support for registrants. You could encourage your employees to seek guidance from their professional body or collect their content yourself.
Discuss and reflect on the areas in which your employees feel they might need support to maintain their fitness to practise. This could involve a discussion of how to integrate wellbeing strategies, or it could be implementing unconscious bias training for the department, to meet EDI requirements.
Gap analysis: In the lead-up to 1 September 2023, our gap analysis tool can be used for individual practice, which will allow registrants to reflect on the key areas of the updates and identify what they may need to focus on during continuing their professional development (CPD). This can feed into their annual appraisals or supervision.


Further resources on the standards of proficiency
Watch a recording of our previous employer-focused webinar on the updated standards of proficiency:
Watch a recording of our previous webinar on mental health:
Further resources on fitness to practise
Cyhoeddwyd:

05/04/2023

Resources

Learning material

Is-gategori:

Information and support

Audience

Employers
Tudalen wedi'i diweddaru ymlaen: 13/10/2023